From time to time the Penn & Tylers Green Residents Society receives enquiries from people outside the immediate area, usually concerning matters of local and social history, often linked to their own family stories …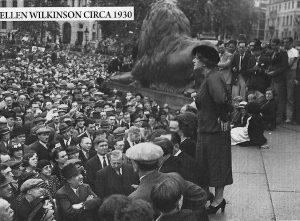 One such enquiry, received just before Christmas, concerned the final resting place of one Ellen Cicely Wilkinson who with others lived in Penn Bottom in the Autumn of 1939. Now, I imagine Ellen was not typical of those that enjoyed the rural atmosphere of Penn Bottom between the wars, she was the MP for Jarrow, had led the Jarrow March and was a founder member of the British Communist Party, she had travelled to Russia and met Leon Trotsky, and following the Labour Party landslide in 1945 she became Minister for Education and died in office in 1947.
Although keeping a London flat she must have retained fond memories of Penn as she is buried in Holy Trinity Penn Street.
However, there is still more to be told, as Ellen shared the house in Penn Bottom – known as Twixtlands – with other notable socialists of the era.
Probably best known was Herbert Stanley Morrison, he of the Morrison shelter widely promoted and used in WW2. One-time leader of the London County Council, he became Home Secretary in the Coalition Government 1940-1945 and then Deputy Prime Minister in Clement Attlee's 1945-1951 Labour Government.
The third Labour MP present that Autumn was John Jagger who had represented Manchester Clayton since 1935, a committed trade unionist he became Morrison's PPS in 1940 until his death in a road accident 1942.
This accident took place in Clay Street Penn Bottom when his auto-cycle collided with a motor car driven by a local farmer, Jagger was on his way to Beaconsfield station to catch a London train.
The remaining two residents were Anne & Doris Wilkinson, sister & sister-in-law to Ellen, Anne was a staunch supporter of her sister throughout her political career both sharing various London addresses for many years.
So, within Twixtlands had resided political figures of considerable national & international reputation and there had been iconic visitors as well, Mahatma Gandhi among them … and yes it still stands today as Little Penn Farmhouse
This article would not have been possible without reference to the "1939 Register", it provided the Government with a snapshot of the civilian population of England & Wales just after the outbreak of WW2.
It was taken on 29th September 1939 and was used in the introduction of Identity Cards & Ration Books. It later played an important role in the launch of the NHS. It can be viewed on both the Find my Past and Ancestry websites.
Ron Saunders, P&TG Village Voice, February/March 2019.
Ellen Wilkinson died 6 February 1947, aged 55, at St Mary's Hospital, London and was buried in Penn Street churchyard, 10th February, 1947.
There is a very comprehensive biography of Ellen Wilkinson on Wikipedia.