Article from: The Shields Daily News, Saturday July 12th, 1919.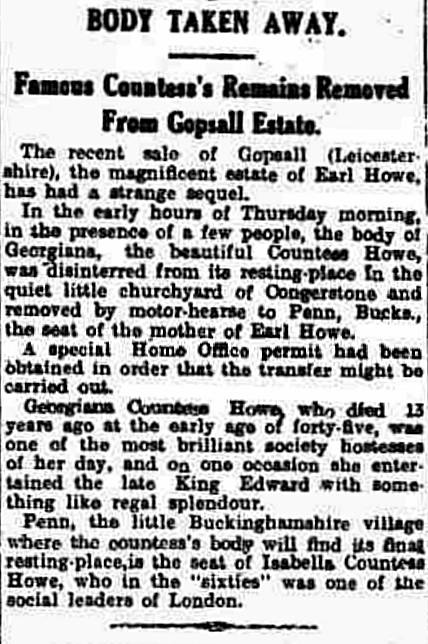 Lady Georgiana Elizabeth Howe, née Spencer-Churchill, born 14th May 1860, daughter of 7th Duke of Marlborough, and sister of Lord Randolph Spencer-Churchill, Winston Churchill's father.  Married Richard George Penn Curzon, 4th Earl Howe, 4th June 1883.  Lady Georgiana died 9th February 1906, following a long illness and was buried in Congerstone churchyard in Leicestershire, near the family's estate at Gopsall.
Photograph: Illustrated Leicester Chronicle, Saturday September 20th, 1919.

In 1918, Lady Georgiana's widower George, 4th Earl Howe, moved his main residence to his Buckinghamshire seat at Penn House, having sold the Gopsall estate to Sir Samuel Waring, of Waring and Gillow.
Lady Georgiana Howe's body was exhumed in July 1919 and reburied in Penn Street churchyard.
George Howe also resided for part of the time at a house called Woodlands, near Uxbridge, as well as using Curzon House, the family's London residence in Mayfair, whilst in London.  His mother, Isabella, widow of the 3rd Earl Howe who died in 1900, divided her time between Penn House and the family's London residence at Curzon House in Mayfair, where she died in 1922.  She is buried with Georgiana and other members of the Howe family in Penn Street churchyard.

The 3rd Earl Howe, Richard Curzon-Howe, (1822-1900) was the son of  the 1st Earl Howe and inherited the title when his elder brother died in 1876.   He was a professional soldier, joined up at the age of 16 and reached the rank of full general.  He was the present, 7th Earl Howe's great grandfather.
Addendum from Earl Howe, May 2020, not only was Lady Howe removed, but also the Howe monument as well as the entire Lych gate leading to Congerstone church.
They were re-erected in Penn Street churchyard where they rest today.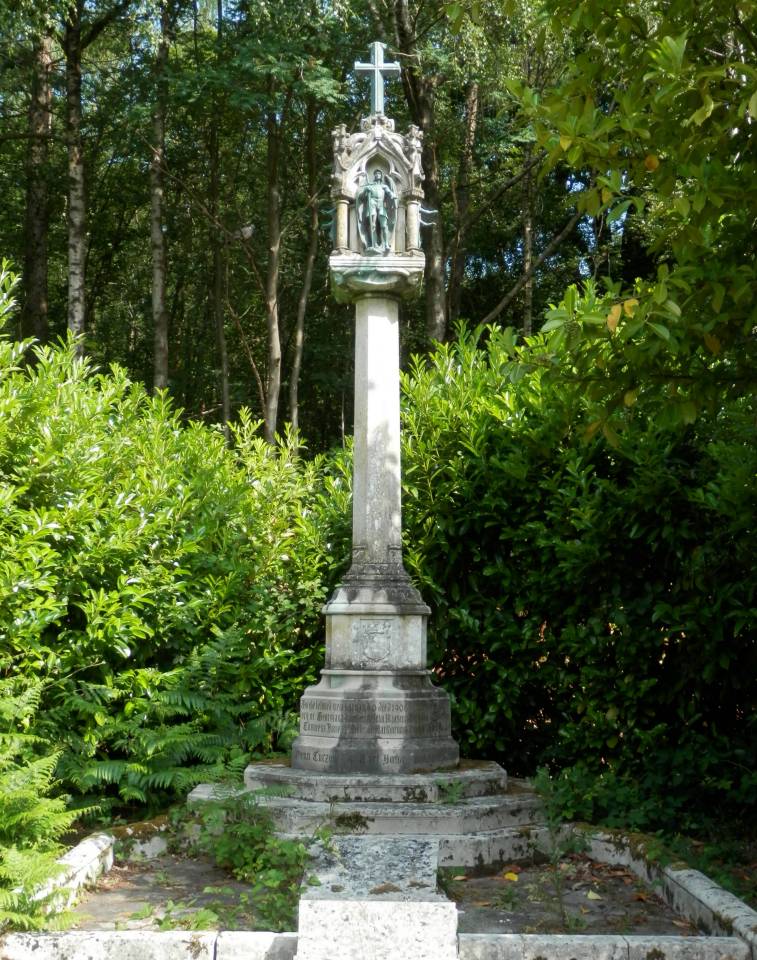 "Earl Howe has caused an obelisk to be raised twelve feet high, mounted on a three-step pedestal, to be erected over the newly-built vault in Congerstone churchyard (Leicestershire), where , little more than a year ago, the remains of Countess Howe were interred. On the front of the second step are engraved the family arms and motto, "Let Curzon hold what Curzon held." and near the base of the obelisk is the inscription, "To the beloved memory of Georgiana Countess Howe, wife of Richard George Penn, fourth Earl Howe.  Born 1860, died 1906; daughter of John Winston, seventh Duke of Marlborough." At the side is also inscribed, "The bitterness of death only touches the living." At the head of the obelisk are four bronze figures, standing in niches, representing Loyalty, Love, Courage and Truth, and the whole is surmounted by a bronze cross."
South Bucks Standard – Friday March 8 1907.
Curzon motto,
"Let Curzon Holde what Curzon Helde"(Click images to enlarge)
Poem: from 'Break, Break, Break'
by Alfred Lord Tennyson.
And the stately ships go on
To their haven under the hill;
But O for the touch of a vanish'd hand,
And the sound of a voice that is still!
---