PENINSULA/WATERLOO

TO THE MEMORY OF
GENERAL SIR FRANCIS WARDE
KNIGHT COMMANDER OF THE MOST HONOURABLE ORDER OF THE BATH,
WHO DIED AT READING MAY 1879, AGED 89 YEARS
SACRED TO THE MEMORY OF
ANNABELLA ADEANE
OF BABRAHAM HALL IN THE COUNTY OF CAMBRIDGE,
THE BELOVED WIFE OF GENERAL WARDE, THE ROYAL ARTILLERY
WHO DEPARTED THIS LIFE AT WOOD SIDE LODGE,
THE 28TH JANUARY 1864, AGED 72
Their pedestal memorial stands at the front of the church in front of the South Transept.
General Sir Francis Warde:
Francis Warde was born c.Dec 1790, Westerham, Kent,
almost certainly at Squerryes, the Warde family seat.
Warde Family Tree: (From www.kentarchaeology.com)
Francis married Annabella Adeane 14 December 1832 at St Marylebone (Middx).
1841 Census: Living in Shooters Hill Plumstead.  His wife, Annabella, is described as "Ann Ward", His Occupation is "Army". Both showed their birthplace as "Kent".
12 May 1866. Made Colonel Commandant Royal Artillery,
1871 Census: Widower, with a manservant at Cambridge Terrace, Paddington,
Occupation: Lieutenant-General (Retd.) 15th Brigade Royal Horse Artillery.
May 1873: Knight Commander of the Bath.
Died at Reading, May 1879. Aged 89, Buried, Holy Trinity, Penn Street, Bucks.
Annabella Adeane:
Parents: Robert Jones Adeane (1763-1823) of Babraham Hall, Cambridge.
High Sheriff of Cambridgeshire, 1822-23.
He married, 26 August 1785, Annabella, daughter of Sir Patrick Blake, 1st bt,
of Langham Hall (Suffolk), four children:
I. Charles-James, b. 14 June, 1786; d. young.
II. HENRY-JOHN, heir to his father.
III. Annabella, (1787-1864), baptised at Langham (Suffolk), 1 July 1787;
married Lieut.-Gen. Sir Francis Warde, 14 December 1832,
at St Marylebone (Middx), no children;
IV. Louisa, m. Rev. William Barlow, Prebendary of Chester.
Annabella Adeane died 28th January, 1864, at Woodside Lodge,
now known as Woodrow High House, Amersham, Bucks..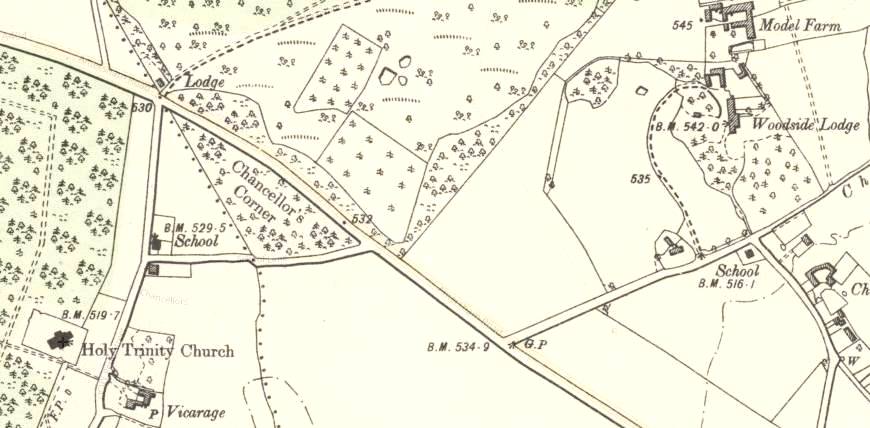 General Sir Francis Warde: Military Career
2nd Lieut 4 March 1809. 1st Lieut 8 March 1812. 2nd Captain 3 July 1830.
Captain 15 June 1840. Bt Major 9 November 1846. Lieut Colonel 7 May 1847.
Colonel 13 September 1854. Major General 8 March 1860.
Lieut-General 24 August 1866. General 15 Apr 1877
Served in the Peninsula War, June 1812 – Apr 1814.  (Between Napoleon's empire & Bourbon Spain for control of the Iberian Peninsula during the Napoleonic Wars). (Brigade Major 6/9th Brigade April- October 1813.
Assistant Adjutant-General, October 1813 – April 1814).
Present at siege of Cadiz.
Present at Waterloo, 18 June 1815 in Lieut Colonel Sir Hew Dalrymple Ross's Troop & with the Army of Occupation.
Served in Malta 1830 -­1832.
Colonel Commandant Royal Artillery, 12 May 1866.
Knight Commander of the Bath, May 1873.
From 'Wellington's Men Remembered, Volume 2'
Waterloo 200
June 18th 2015 at 11 am officers and soldiers from the 1st regiment – Royal Horse Artillery based at Larkhill, gathered at Holy Trinity Penn Street to lay a wreath in honour of General Sir Francis Warde, who fought in the Battle of Waterloo. This wreath laying mirrors the act of remembrance by the Royal Artillery exactly 100 years ago on 18th June 1915 despite WW1, and the wreath is the same design, featuring laurel, corn-flowers and red roses. The ceremony was conducted by Lt/Col Nick Launders, who spoke of the Battle of Waterloo when Wellington led a united international army from a number of European nations fighting against the ambitions of a dictator wishing to control Europe. The event was coordinated with the help of Stuart Reid of the High Wycombe branch of the RA Association.
Penn Street & Holmer Green church newsletter 5/7/2015.