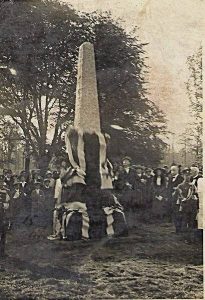 Unveiled: 11 June 1922,
by: Private Eric Randall
Dedicated: 11 June 1922,
by: Rev A Browning
During his long service Vicar of Penn Street and Holmer Green, the Rev Arthur Browning recorded many aspects of the life in the villages in his monthly newsletters.  The fund-raising for various projects during World War I is documented, as well as the sad news when a local man was killed.
In the December 1918 Newsletter, he records "The news of the signing of the Armistice on Nov. 12th, St Martin's Day, sent a thrill of joy throughout the country; …" and in January 1919 mentions a war memorial.
Several schemes were being proposed in the district and preliminary meetings were held in Penn Street on 28th December and in Holmer Green on 6th January 1919 to consider what the local people wanted. It was unanimously agreed to erect a granite Cross in each Churchyard with the names of the 'fallen' engraved on the base, with a suitable inscription, and to raise at least £100 for this enterprise in each village.
In June 1919 the Vicar tells us that "it has now been provisionally arranged to place a memorial tablet in the Parish Church to the memory of those fallen in the war from Penn Street, Woodrow and Mop End."  After paying for this, any surplus money could go towards a Recreation Room that could be used as a kind of club for the many young men, including those returned from the Army, living in the village.  Money was starting to come in and some of the young men organised a house-to-house weekly collection.  A social in May raised £5 from admission and refreshments, all of which had been donated.
Holmer Green residents were raising money and in July up to nearly £40 had been donated.  Some people were paying by weekly and monthly subscriptions so on the whole the response had been gratifying.  Rev Browning urged upon all Holmer Green people the desirability of contributing something towards this fund. "However liberally we may respond to outside appeals we ought not to do so at the expense of our own memorial."
In May 1920, it is reported that a design had been chosen and a site in the Churchyard given by the Vicar for a memorial in Holmer Green.   More donations were received to cover the cost.  In October the faculty for the erection of the War Memorial Cross in the Churchyard was received and work started soon after by Mr G Darlington of Amersham.  (The bound volume for 1921 is missing and I think this is when the Holmer Green Memorial would have been completed and dedicated.  Has anyone any information about this?)
In the December 1920 Newsletter, a meeting in Penn Street Schoolroom it was agreed that the most suitable place for a memorial would be on 'The Piece', close to the road, if Lord Howe consented.
In July 1922 it is recorded that on 11th June 1922, "A large number of people – estimates varied between 700 and 1000 – assembled on the Village Green for the Unveiling and Dedication of the War Memorial Festival of the Parish Church (in Penn Street)." Penn and Tylers Green Brass Band accompanied the hymns, and "by the kindness of the Commanding Officer," two buglers came from Halton Camp to play the Last Post and the Reveille at the end of the ceremony.  Earl Howe gave an address and invited Private Eric Randall, who lost a leg in the war, to unveil the memorial. At the conclusion of the Ceremony about 350 people packed in to the Parish Church for Evensong, when the collection was given to St Dunstan's.
Hilary Hide, Holmer Green Today
---
---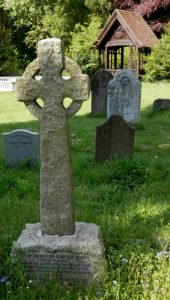 2nd Lt. John Dennistoun Campbell BEAVER,
Kings Royal Rifle Corps, attchd. 13th Battalion.
Died at Highlands, Woodrow, May 15 1918
of wounds received near Monchy-le-Preux,
Pas de Calais, France, April 10 1917.
Buried Penn Street Churchyard.
Born at Eyrecourt Castle, Ireland, Jan 2, 1893,
3rd son of Hugh Edward Campbell Beaver & Cerise,
Bryn Glas, North Wales
Lance Cpl. Leonard James CALLOW 4128
East Surrey Regiment, 9th Battalion
Killed in Action, Age 30, September 25, 1915
Loos Memorial, Pas de Calais, France, Panel 65-68.
Baptised: 2 Nov 1884, Richmond Yorks, Woodcarver.
Parents, James & Julia Maria Callow, nee Parker.
Wife: Lily Louisa Callow, née Butcher,
Connection with Penn Street, Unknown.
Guardsman/Private, Albert Victor CLARKE 24902
Regiment Grenadier Guards 4th Battalion
Age 22, Killed in Action: 23 Mar 1918
Arras Memorial, Pas de Calais, France, Bay 1.
Baptised; 05 Sep 1895 Helhoughton, Norfolk, gamekeeper .
Parents Edward & Bessie Clarke, gamekeeper,
Keepers House, Woodrow, Amersham. Brother of Geoffrey Clarke.
Private Geoffrey CLARKE,  51164, Bedfordshire Reg't B Coy 4th Battalion
Age 19, KIlled in Action 25 May 1918,
Pozieres Memorial, Somme, France Panel 28 & 29.
Born c1899, Amersham. Parents Edward & Bessie Clarke, gamekeeper,
Keepers House, Woodrow, Amersham. Brother of Albert Victor Clarke.
Private Arthur James COLE 11059, Gloucestershire Reg't 3rd Battalion.
Age: 31, Died of Wounds, 23 Jun 1917, Salonika.
Pieta Military Cemetery, Malta, C.XIV.4
Pre-war occupation: telegraph messenger
Parents David & Fanny Agnes Cole, gamekeeper, The Grove, Penn Street
Lance Cpl. Archibald HALLETT, 16582, Coldstream Guards, 4th Battalion..
Age: 21, Died of wounds, 24 Oct 1917
Dozinghem Military Cemetery, Poperinge, Belgium, X.C.13
Born, c1891 Grantham, Lincs. Parents Walter & Alice Hallett, Penn Wood, Penn.
Private Jack (John) Frederick HANCOCK, 718116, London Regt.1/23rd Batt'n.
Age: 21, Died of wounds, 11 May 1918,
Pernois British Cemetery, Halloy-les-Pernois, Somme, France, I.C.19
Born: c1897 Penn St. Parents William Alfred (Dd.1898) & Alice Hancock, Penn St..
Gunner Ronald Sidney HEARNE 8980, Royal Garrison Artillery 156th Battery.
Age: 21, Died of wounds 07 Feb 1917,
Heilly Station Cemetery, Mericourt-L'Abbe, Somme, France, V.G.34
Born c1896 Penn St. Parents Alfred & Annie Hearne, Rose Cottage, Penn St..
Sgt. Cecil HOPKINS, 593, Military Police Corps 58th Div Mounted Police.
Age: 34, Killed in Action; 11 Dec 1917
Cemetery Duhallow A.D.S Cemetery, Ieper, Belgium, Reference III.D.7
Born c1883 Amersham, Pre-war occupation tailors cutter.
Parents Charles & Emma Hopkins, butler, Bristol
Private Frederick Miles JAMES 28175, Queens Own (Royal West Kent Reg't)
posted 20th Bn, London Regiment. Age: 37?, Died of wounds 30 Mar 1918
Etaples Military Cemetery, Pas de Calais, France, XXXIII.B.14A
Born 1880, Amersham, farm labourer.
Parents: Mary Ann James, Widow.
Wife: Mary James née Martin, Md. 1903, 18 Beamond End, Penn Street.
Private Willie KNIGHTS TF/241618, Royal West Kent Regiment 1st Battalion
Age: 38, Killed in Action: 04 Oct 1917
Hooge Crater Cemetery, Ieper, Belgium, VII.L.2
Born: c1879 Ratcliffe on Soar, Notts
Parents Frederick & Jemima Knights, game keeper, Penn Bottom.
Private George Frederick MASON 174, Royal Buckinghamshire Hussars
Age: 18, Killed in Action 21 Aug 1915, Gallipoli
Helles Memorial, Turkey, Panel 16 & 17
Born c1897 Little Missenden
Parents Charles & Elizabeth Mason, farmer, Mop End Farm, Penn Street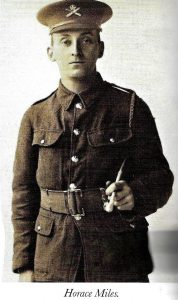 Corporal Horace MILES 157701,
Royal Engineers 179th Tunnelling Coy
Age: 26, Died of wounds 20 May 1918
St Sever Cemetery Extension, Rouen, France, Q.III.F.8
Born c1892 Amersham,
Parents Alfred & Almiria Miles, chair adzer, Mop End.
Private Sidney George MILES 33679
Oxford & Bucks Light Infantry 1/1st Bucks Battalion
Age 41, 15 Jun 1918, Killed in action
Boscon British Cemetery, Italy, Plot 1 Row B Grave 1
Date/Place of birth c1877 Penn Street, chair maker
Parents William & Annie Miles, Penn Street,
chair maker.  Wife Sarah Ellen Miles, Penn Street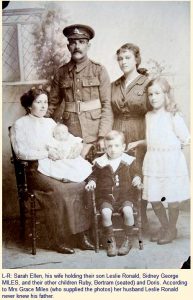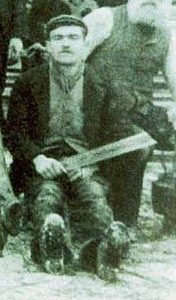 Sidney Miles, Dancer & Hearne, 1900's
The Miles family also lost two cousins of Horace and Sidney, Charles and John Miles of Holmer Green.
Lt. Joseph James WIDDOWSON, Wiltshire Regiment 1st Battalion
Age: 20, Died of wounds 23 Oct 1916 .
Contay British Cemetery, Contay, Somme, France, II.A.27
Born: 28 Jul 1896 Bedford
Parents Joseph James & Alice Widdowson née Plumbe,
Father JJW born, married & buried at Penn Street, itinerant hotel manager.
Private Sidney WILKINS 23078, Worcestershire Regiment 4th Battalion
Age: 19, Died of wounds 19 22 Aug 1915, Malta.
Pieta Military Cemetery, Malta, A.IX.3
Born: c1896 Winchmore Hill, Penn Street
Parents George & Laura Wilkins, Windsor chair maker, The Old Griffin, Mop End.
Rifleman Frederick WINGROVE 573671, London Regiment A Coy
1/17th Battalion, Age: 20, Killed in Action 20 15 Sep 1917.
Ypres (Menin Gate) Memorial, Ieper, Belgium, Panel 52 to 54
Born c1897 Amersham, Parents Thomas & Sarah A Wingrove,
wood worker (chair), Woodside Cottage, Penn Street.
Private Alfred WRIGHT 28877, Royal Warwickshire Regiment
Age: 32, Died of wounds 20 Aug 1917
Dozinghem Military Cemetery, Poperinge, Belgium, IV.I.3
Born: c1885 Amersham, general farm labourer
Parents William & Kate Wright, general labourer, Winchmore Hill, Amersham
Wife late Primrose Dorothy Wright, Died 1916..
Winchmore Hill Memorial Hall, Buried at Penn Street.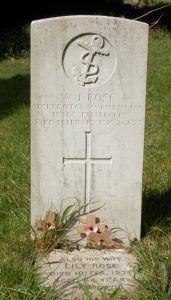 Stoker, 1st class William John ROSE K/38486, HMS Pembroke,
Royal Navy.  Age: 27, Died of wounds at home, 23 Feb 1919
Penn Street, Holy Trinity, Churchyard, Bucks, north of church
Born: 30 Jul 1892 Amersham
Parents William & Cissie Rose, bricklayers labourer,
Winchmore Hill,  Wife: Lily Iva Rose, Elm Tree Cottages,
Winchmore Hill. Died 18 Feb 1976, aged 84.
---
World War Two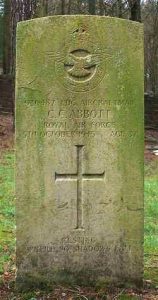 Leading Aircraftman Cyril Charles ABBOTT 930487 RAFVR.
Age 37, Died 05 Oct 1945, Mansfield. Costing Clerk (gas works),
Parents: Charles and Ellen Elizabeth Abbott, Mansfield;
Wife Amelia Florence Abbott, née Mee, Md. Sep 1939,
Address 1939, 'Highlands', ??, High Wycombe.
Private Reginald William T BOVINGDON 6102682, Royal Sussex Regiment
Age 31, Died 27 October 1942, ALAMEIN MEMORIAL Column 61.
Parents Ephraim and Florence Emily Bovingdon; 9 Penn Wood View, Penn St.
nephew of Mrs. E. Archer, of Nettlebed, Oxfordshire.
Private Harry Vincent READ 5385854, King's Own Yorkshire Light Infantry
Age 29, Died 22 January 1944, 9 MINTURNO WAR CEMETERY Coll. grave I, L, 5-7.
Parents Richard and Ellen F. Read;
Wife: Julia Read, of Flackwell Heath, Buckinghamshire.
Gunner Christopher Penn Ware, 1552938,
1 Bty. 1 Searchlight Regt. Royal Artillery
Parents: Penn and Sarah Ware, of Holmer Green;
Wife: Elsie Elizabeth Ware, of Cwmdu, Swansea.
Much of the information above is from June and Peter Underwood's comprehensive website Buckinghamshire Remembers,  and Commonwealth War Graves Commission website.